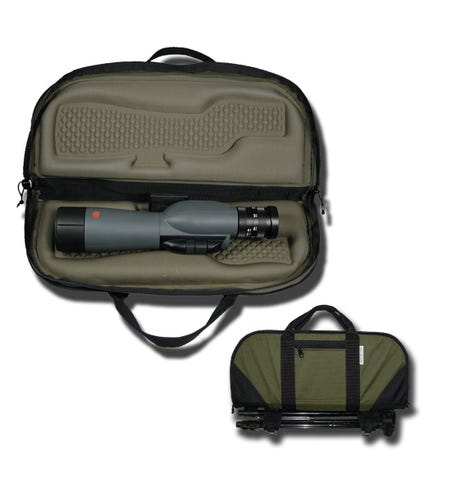 Whether you are going to the farm or range, you need a stylish and durable case to protect your spotting scope. Snug-Fit Snug Rug Spotting Scope Case is great at keeping your spotting scope gear intact and together. If you are going to buy a case, this is the one to go for.
Who buys a spotting carry case?
There is no doubt that a spotting carry case is a favorite for people who love the outdoor and adventurous life. It is mainly for people who go on to shooting ranges, scouting trips or any other outdoor activity that requires using a spotting scope. They love their spotting scope gear so much that they buy a strong and durable case to protect it.
Product specifications and info
This case was designed with spotting scope gear protection in mind. Available in two sizes, the case can easily fit both angled and straight body spotting cases. The case has a side accessory pocket that stores cleaning supplies. The foam gear grippers placed on the underside of the case are used to attach a tripod. The case's internal and external lengths are 17 and 19 inches respectively.
Features
· 360ocustom molded foam protection.
· Zippers.
· Accessory pocket that stores cleaning supplies.
· Foam grippers for attaching a tripod.
· Come in olive green color.
Pros
· It is roomy – holds the spotting scope comfortably.
· Interior surface holds the spotting scope securely.
· Its attractive and can hold a heavy tripod.
· It has great padding.
Cons
· Tight on one end of the scope

– this tightness calls for the squeezing of the scope and may cause some undesired wear and tear
Final thoughts
This is a well-designed case that was meant to fulfill its purpose. It is a very functional case that does not only protect a spotting scope but can also hold a tripod. Apart from being tight on the large end of the scope, this is a high-quality case that satisfies its purpose.
Read more: How to Buy a Spotting Scope
Related Post: